The Proven
EBS 1500 stands for reliability, robustness and indestructible technology. In the ink jet segment this printer is known for it's simple but efficient handling. The printer can get equipped with a bunch of different printheads, optional from 16 nozzles up to 128 nozzles. Expressed in font height this means from 6 mm up to 230 mm.
Multi-printhead setup
With our EBS-1500 you can operate up to 6 printheads with one controller. This is a big advantage for companies with several parallel production lines. It is possible to print a different project with each head.
High contrast
The EBS-1500 even is able to work with pigmented inks. This brings you the maximum contrast for difficult materials.
Robust technology that has already been proven
Our EBS-1500 is probably the most reliable and solid DOD (Drop on Demand) inkjet printer on the market. It combines word processing with graphics, barcodes and data matrix codes in an easy-to-use graphical user interface.
With features such as IP54 protection (optional) and the ability to connect up to 6 print heads to one controller, this coder is the right tool for large production lines and harsh conditions.
Learn more about the features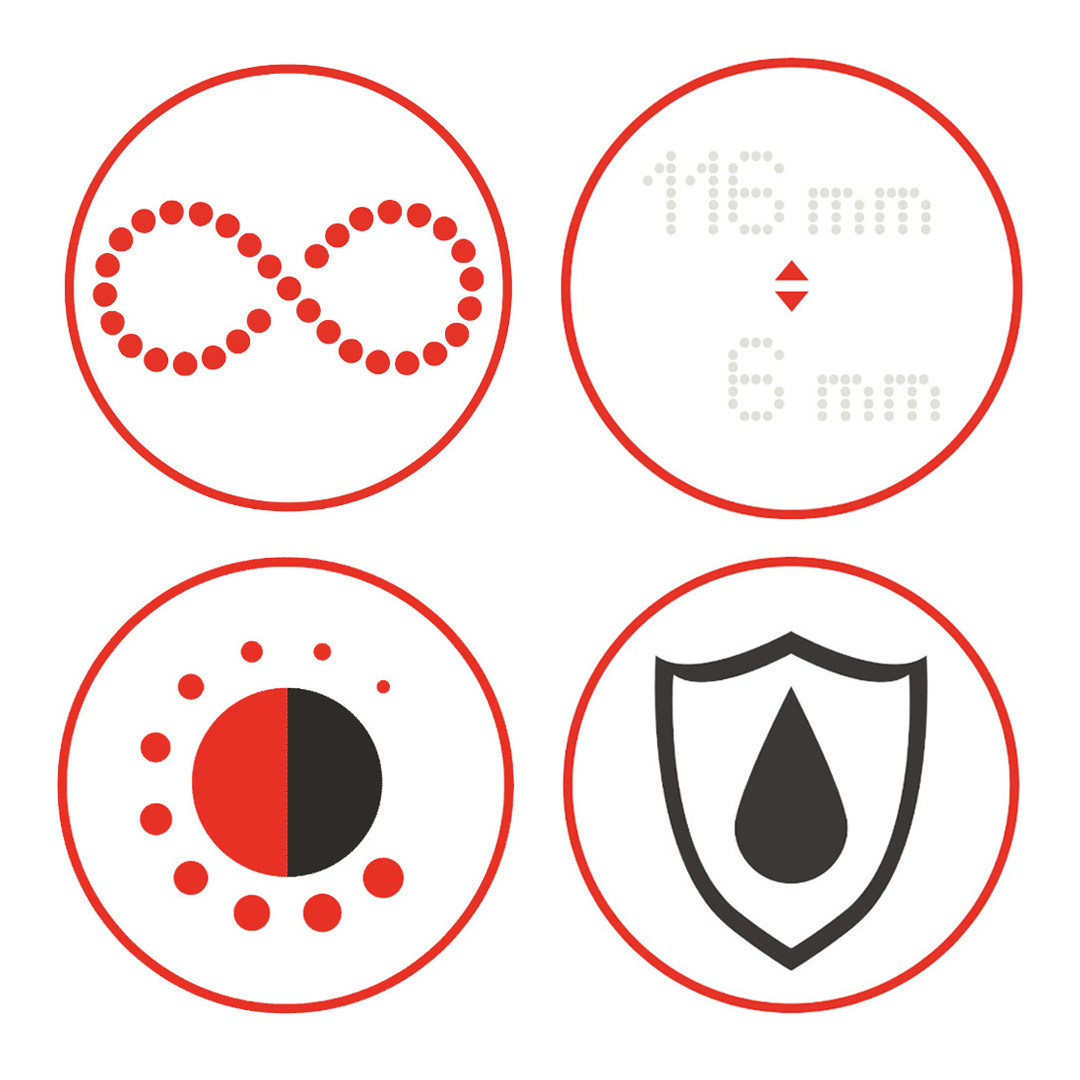 Housing dimensions
height: 95 mm,
width: 300 mm,
depth: 237 mm,
minimum width of a compartment for the controller with cables attached: 400 mm
Length of cable from the controller to a first print-head: 3 m as standard
Weight approximately 3350 g (controller with power cord)
IP protection class, printer casing(excluding the printhead) IP40(standard), IP54 (optional)
Number of printheads
up to 6
The print-heads depend on each other, i.e. the printing by all print-heads is released by a shared photo-detector and timed by a shared internal generator or an external shaft-encoder.
Printhead position during printing any
Terminal 
a built-in graphics terminal equipped with an alphanumerical keyboard and LCD graphics display as standard;
a multilingual user interface also including the Japanese, Chinese or Korean languages
Distanz vom Druckkopf zum Objekt von 0 bis 30mm
Connections
PHOTO 

(photodetector input)

SHAFT

 

(shaft encoder input)

RS-232
Required inactive time none, the device can run uninterruptedly for 24 hours
Timing (of all print-heads at the same time) 
an internal generator, whose frequency is defined with appropriate print parameters,
an external sensor of conveyor travel rate, a shaft-encoder, one to be shared by the print-heads or one for either print-head
Type of ink pigmented and non-pigmented, based on methyl-ethyl ketone, acetone or ethanol
Ink color multicolor, provided that ink of one type only is used
*) note – the manufacturer reserves that:
the range of available features, options and printer parameters may vary and depend on the option you have negotiated
Enviroment working temperature from
+5 to +40°C (from 41 to +104°F) (as standard)
-10 to +40°C (from +14 to +104°F) for special versions
relative humidity: up to 90% without condensation
Acceptable exposure to vibration and impacts
vibration: max. 1g, max. 10Hz
shocks:    max. 1g, max. 2ms
Power supply
input rating: AC 87-242V at 45-440Hz, DC 90-350V;
power consumption: < 10W for standard version (with no print-head)
Maximum power consumption of printing system is conditioned by:
 number and types of print-head connected (number of nozzles)
 print rate and intensity,
 coverage ratio, i.e. the number of dots printed in proportion to the maximum number of dots resulting from multiplying the print length (a number of rows) by the maximum print height
Print height from 5 to a maximum of 115mm (depending on printhead)
Maximum dots 5 to a maximum of 64 (depending on printhead)
Datalogic, Matrix, 2/5 5 Bars, Interleaved, Alpha 39, EAN-8, EAN-13, Code 128, EAN-128, Code 128B, ITF8, ITF14.
All bar codes can be printed in inversion a preset number of times and supplemented by numerical labels and the width of stripes can be adjusted after changes in ink consistency
Two-dimensional (2D) code Data Matrix ECC-200
Graphics
graphics of any length and the height of up to MPH to be inserted at any point of a text to be printed (a built-in graphics processor)
Number of lines
up to 8, if a 7×5-dot matrix is used for a 64-pixel print-head,
up to 4, if a 7×5-dot matrix is used for a 32-pixel print-head,
up to 3, if a 7×5-dot matrix is used for a 25-pixel print-head,
up to 2, if a 7×5-dot matrix is used for a 16-pixel print-head,
up to 1, if a 7×5-dot matrix is used for 7 or 12-pixel print-heads
Character size (matrices)
5×5, 7×5, 9×5, 9×7, 11×8, 12×6, 12×7, 14×9, 16×10, 16×14, 21×15, 25×15, 32×18, 64×36 and others;
various combinations of font types and sizes can be used and are only restricted by the type of print-head or specifically the parameter MPH, the maximum print height
National characters multilingual diacritical characters (also Polish characters), the Cyrillic alphabet, Arabic characters, Japanese characters (Katakana and a set of Kanji characters), Chinese or Korean characters