"Trade fairs in Germany secure 230,000 jobs".
So says the current report from February 2023 of the Association of the German Trade Fair Industry (AUMA for short). This figure illustrates the great importance of Germany as a trade fair location. The fact alone that four of the world's ten largest exhibition centers – Hanover, Frankfurt am Main, Cologne and Düsseldorf – are located in Germany is impressive. All the more drastic were the last three years, which have stirred up a lot in the trade fair world and in some cases changed it noticeably.
Cancellations and postponements of trade shows were almost the order of the day in 2020 and 2021. And even in 2022, the first quarter did not really give hope that the situation would change fundamentally. After all, trade show events were largely prohibited by the authorities or postponed as a precaution due to tighter restrictions. And yet 2022 proved us wrong. In the end, we were able to participate in a total of 9 trade fairs throughout Germany in the period from May to October 2022. Compared to the last trade fair year before Corona, this is even one trade fair participation more than in 2019.
So everything is back to the way it used to be?
Not quite. Because the pandemic has left clear traces. When we held our first trade fair at pandemic time in September 2021, feelings were mixed. What would we expect? What would it feel like to hold a fair with the regulations in place (mandatory masks and people restrictions)? We were pleasantly surprised. Even though the international audience (especially from Asia) almost stayed away, we could still chalk up the Fachpack trade show in Nuremberg as a successful new start.
In 2022, as is well known, the rules on corona containment were then gradually relaxed. And yet we still did not have a consistently positive feeling. Especially at the larger trade shows, the changes were clearly noticeable. Especially since the international guests were still missing. In addition, Corona-related postponements unfortunately also led to very tight or unfavorable schedules. For example, the most important trade show for the wire and cable industry, TUBE, was scheduled exactly for the last week before the summer vacations in North Rhine-Westphalia, which made planning difficult for both exhibitors and visitors.
Small, regional trade shows, on the other hand, were definitely a success. Many decision-makers from small and medium-sized companies came together in a small space. From our point of view, this resulted in very promising discussions at eye level and some groundbreaking relationships were established.
What does the future hold?
Our experience gained during a worldwide pandemic in the last two trade fair years corresponds very well with the evaluations of AUMA regarding the origin of international trade fair exhibitors. Whereas in 2019 around 30% of exhibitors came from Asian countries, in 2022 this figure was only just under 19%. On the other hand, 72% of exhibitors came from Europe. An increase of around 12% compared to 2019. Even though we are talking about the international exhibitors here, a comparison can also be made to some extent with the international visitors. The current as well as the coming years will show whether the trend will continue or the ratios will return to the pre-Corona standard.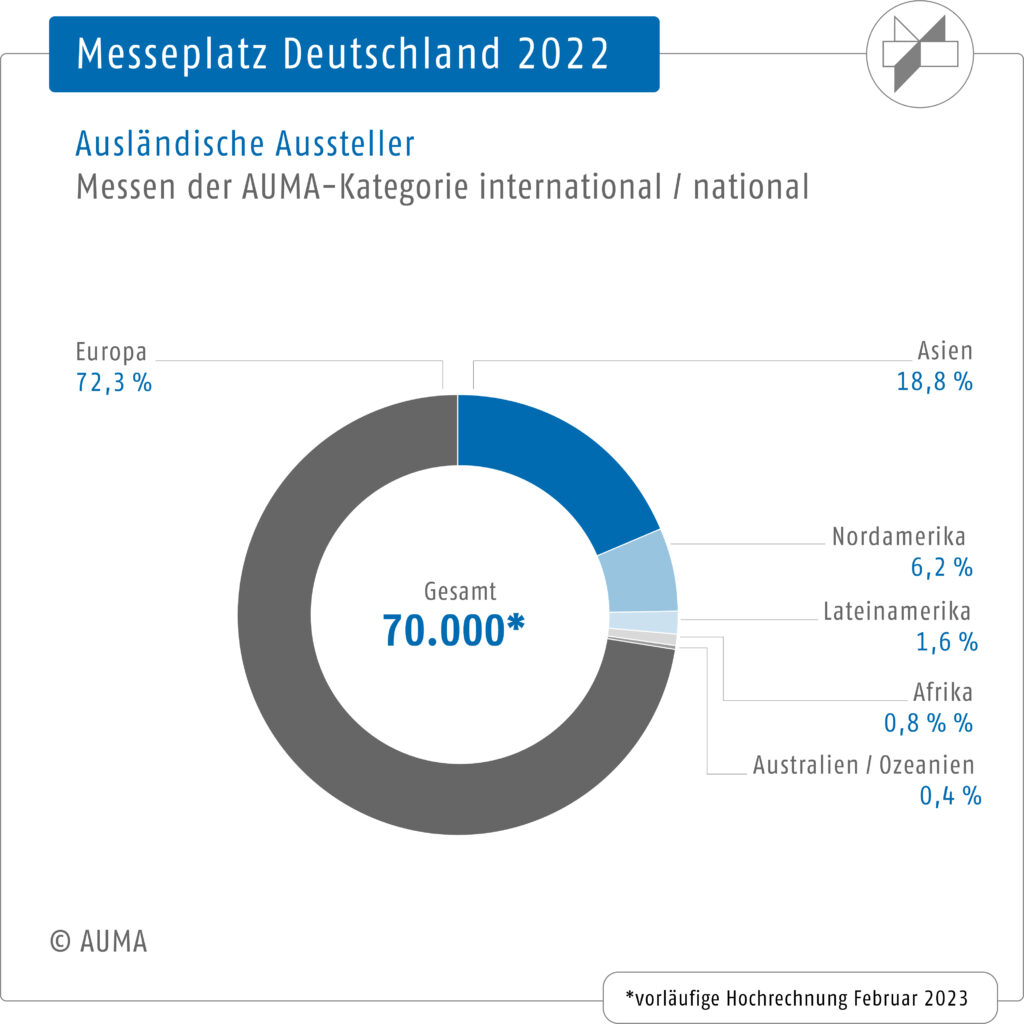 Another, very clear trend of the trade fair companies was also already noticeable in 2022. Digitization is making its way into the trade show world in leaps and bounds. From now on, more and more content will also be accessible via the World Wide Web. Whether presentations, webinars or virtual trade fair stands. Everything can be accessed from home with just one click. And experts are certain that this will not change noticeably in the long term. The trend toward hybrid events was really only a matter of time. And yet the change is far from complete. As with many processes, we are dealing here with an ongoing process that is constantly evolving. At present, there is still no sign of a major impact on the number of (planned) trade shows. Currently, according to AUMA's projections, 338 trade fairs are planned across Germany for 2023. That's about 20% more trade shows than last year and only about 4% fewer trade shows than in 2019. Only time will tell how digitization will affect the large, international trade shows in particular.
EBS on site…Our trade fair dates 2023
In any case, we are very excited about what the current trade show year 2023 will have in store for us. But without interested trade visitors, all these trade shows would not be what they used to be or should be. Therefore, we would like to give you a detailed overview of our current trade show planning here. Alternatively, you can find a compact overview of the dates under "Trade fairs" on our website. There you will also find all booth information as well as the corresponding links to the respective trade fair appearances. You are sure to find the right trade show for your industry.
Hannover Messe
As in the previous year, we will again be represented at the Hannover Messe in 2023. From April 17-21, 2023, around 4,000 exhibitors from a wide range of industries will meet at the world's leading trade fair for industry. In addition to our well-known marking systems, such as the mobile Handjet EBS-260 or the small character series Boltmark II, we will also exhibit our new product, the EBS-2600, this year. This state-of-the-art, compact system for high-resolution printing on numerous surfaces impresses with its versatile application possibilities. Compared to its predecessor, the EBS-2500, several improvements have been made. The software is now even more stable and operation is also much more modern and intuitive than with the predecessor model.
Interpack Düsseldorf
Only about a week after the Hannover Messe, the next trade show highlight for 2023 will follow immediately, because after a six-year break, the leading trade show of the packaging industry will take place again for the first time. At the Interpack trade show in Düsseldorf from May 4-10, 2023, visitors will be able to get a broad overview of the latest developments in the entire packaging industry. At our booth, we will provide a great overview of the wide range of applications for our systems. Regardless of whether you are in the food, pharmaceutical, cosmetics or industrial goods sectors. With us you will find the right labeling system for the application in your company.
Ligna Hannover
Even after that, things don't get any quieter, with the next trade fair already awaiting us just a few days later. At the Ligna in Hanover, around 1,100 exhibitors from the entire range of the woodworking value chain will come together in the period from May 15 – 19, 2023. More than 90,000 woodworking professionals from all over the world are now expected in Hannover after the long break from the trade fair. And of course we from EBS will not be missing there. Because the already mentioned novelty EBS-2600 can act as an eye-catcher par excellence here. Because this system is not only extremely economical in terms of energy and ink consumption. Since July 2022, we have also been a licensed supplier of inkjet marking systems for marking EPAL load carriers with the EBS-2600. And that's not all: to complement our new EBS-2600, we have added an extensive accessories catalog to our range. This is aimed specifically at pallet manufacturers and repairers and offers all the items needed to integrate our marking system into existing production lines. (Tip: Please also read our other blog posts on the topic of "wood marking").
EMPACK Hamburg
Your company is located in northern Germany and the other trade fairs are too far away? No problem! On June 14 and 15, 2023, we will once again be present at EMPACK Hamburg in the Hamburg-Schnelsen exhibition halls. At the trade fair, which calls itself the meeting place for the entire packaging industry, you will be offered everything from primary & secondary packaging materials to packaging and filling technologies as well as automated solutions. No matter whether logistics service providers, manufacturing industry, machine / equipment construction, food / beverage industry, paper and printing trade or even wholesale, retail and mail order trade – at EMPACK Hamburg decision-makers and specialists meet in an efficient environment.
This also brings us to the end of the first half of the trade fair in 2023, but by no means the entire year as such. Because in October and November there will be three more trade show highlights that should not be overlooked.
Motek Stuttgart
In our case, the Motek trade fair in Stuttgart will be the first. From October 10 – 13, 2023, the gates of the International Trade Fair for Production and Assembly Automation will finally open again. And we will also be back in full force at our booth. CIJ, DOD and High Res – everything is there! We would be happy to show you our solutions for resource-saving and environmentally conscious marking in a personal meeting. Our portfolio includes many alternatives to conventional marking methods. Very low ink consumption and the option of using mineral-oil-free inks round off the range.
And if that's not enough reason for a trip to Stuttgart, Bondexpo, the trade fair for adhesive bonding technology, will also be taking place at the same time, creating a powerful trade fair alliance as a platform for future topics.
Blechexpo Stuttgart
Just under a month later, we will once again be heading to the southwest of Germany. This is because Blechexpo will take place in Stuttgart from November 7 – 10, 2023. At the international trade fair for sheet metal processing, companies will be represented along the entire process chain of cold-forming sheet metal processing. Together with Schweißtech, the trade fair for joining technology, which will take place at the same time, a total of 953 exhibitors from 31 nations are expected. And at our booth, we will once again be on hand to provide advice and demonstrate the many ways in which you can best integrate our marking systems into your existing production processes.
Braubeviale Nürnberg
Our final event of this year's exhibition year will be the Braubeviale in Nuremberg. From November 28 – 30, 2023, the organizer's goal is to create a place where regional and global players can meet. Together, this is intended to give the diverse industry the decisive impetus for the future. Because while the trade fair originally only represented the topics of beer and brewing, it now combines tradition with the modern diversity of the entire beverage industry. This has resulted in a comprehensive range of products and services that represents the entire beverage production process chain. With our broad portfolio of suitable labeling systems, we cannot be missing here, of course. Because no matter whether small or large print. Stationary or mobile solution. We also have a wide range of industrial coders for the beverage industry.