Our mobile handjet coders are large character printers using the drop-on-demand method. Here, up to 32 nozzles are controlled individually in order to be able to apply texts, barcodes or graphics to the object to be printed with a print height of 7mm to a maximum of 57mm. The special feature of our hand jets is their easy handling in everyday work. Thanks to their low weight and unlimited mobility, our mobile printers are the more efficient alternative to roll coders and stencils.
Thanks to their integrated rechargeable battery and data memory, the Handjet operates completely wirelessly and can therefore be used in a variety of ways. Instead of bringing the product to the marking device, the Handjet can be used to mark directly on the product. This saves time and effort every day. The built-in nozzles are designed so that even overhead printing is no problem for the Handjet coder. Separately available guide rails can also facilitate the marking of cylindrical or circular objects.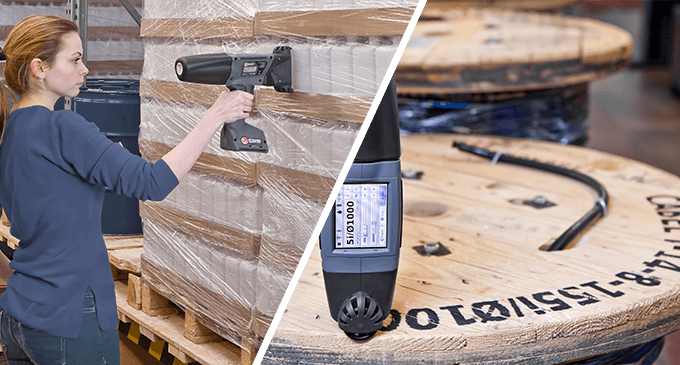 The Handjet EBS-250 was the first fully mobile DOD (Drop on Demand) Ink-Jet printer of the world. With a font height of 7 mm up to 27 mm, there are a lot of applications where the Handjet is the right tool. Because of a very robust technical construction and a very easy handling everyone can work with this mobile coder. Perfect to substitute roll-coders and stencils, because the handjet is much more faster and efficient.
Because the Handjet series was such a great benefit for a lot of customers, EBS Ink-Jet Systems decided to develop the even more successful big brother – the Handjet EBS-260. The big-font DOD (Drop on Demand) Ink-Jet printer is now able to print from 11 mm up to a maximum of 57 mm in height. The unique handling has even been improved, due to a big touchscreen on the coder itself.