EBS-6800P is the name of our printer designed for pigmented inks. The printer is an industrial single-head inkjet printer designed for non-contact coding of moving objects on a factory conveyor belt with up to 500m/min (@ 5×5 matrix).
High constrast
The special field of our EBS-6800 is the processing of pigmented inks. These have the advantage that they are extremely rich in contrast and are very good visible on a wide variety of surfaces.
Degree of protection IP44 as standard
IP44 or IP54 – Protection of the housing against the ingress of water and coarse dust allows to ensure the reliability of the printer for a long time. The printer's keyboard and screen and all ports are protected against chemicals and water spray. (IP 54 optional available)
The new generation of BOLTMARK ® II printers has increased in terms of performance, functionality and reliability. Our engineers have created a product that will not let you down, even under the toughest conditions, and will also work highly efficiently.
Extremely low power consumption (only 19 W) creates a new quality in the CIJ printer segment. With low consumption of consumables, the BOLTMARK®-II series printers take the lead in eco-friendly and economical marking equipment.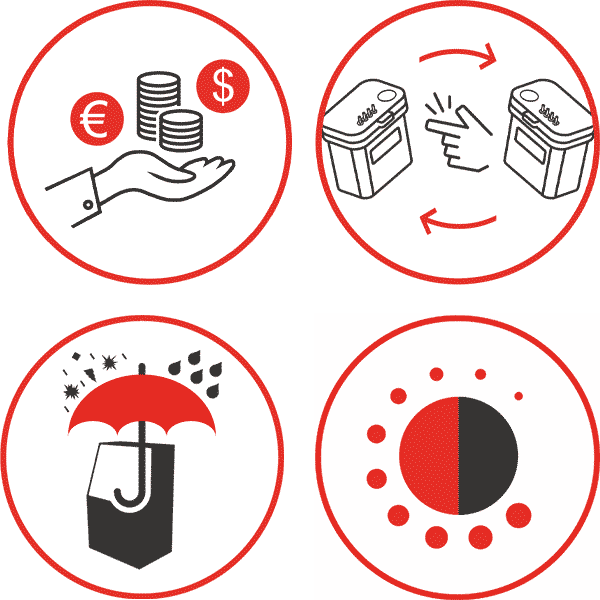 width 300mm
 hight 470mm
 depth 211mm
Printhead dimensions straight diameter
 Ø 40mm; length 198mm
angular diameter Ø 40mm; length 127mm; height 130mm
LCD dimensions 5,7″/144,8mm
Weight about 13,8kg without fluids
IP protection class, printer casing(excluding the printhead)
IP44

 (standard)

IP54

(option)
Printer position during printing vertical
Printhead position during printing any
Distance from the printhead to an object from 0 to 30mm
Connections
USB

, current efficiency 300 mA

ETHERNET

PHOTO 

(photodetector input)

SHAFT

 (shaft encoder input)
optional connections (e.g. 

RS-232

)
Terminal a built-in terminal equipped with an air tight, splash proof, chemicals resistant alphanumerical keyboard and a big touch control LCD (touch screen)
Print release photodetector (other detectors can be connected, if required by a user)
Timing of print columns 
internal generator
shaft-encoder
Enviroment working temperature from
+5 to +40°C (from 41 to +104°F), for static operation
+15 to +40°C (from +59 to +104°F) for dynamic operation
relative humidity: up to 90% without condensation
Acceptable exposure to vibration and impacts
vibration: max. 1g, max. 10Hz
shocks:    max. 1g, max. 2ms
Power supply
supply voltage: 100-240 VAC, 50/60 Hz
max. current consumption: 0,65 – 0,3 A
Compressed air not required!!!
Required inactive time none, the device can run uninterruptedly for 24 hours
Print height  from 1,2 to 14mm
Maximum dots 16 (optional 25 or 32)
about 1000 (standard)
about 2000 (option)
Graphics
edited with graphics editor
maximum height is determined by selected text profile
Types of subtextes  
CHARACTER STRINGS
GRAPHICS
BAR CODE
TEXT NAME
Subtexts whose contents are:
‑ static,
‑ dynamic (so called special registers: counters, date, expiration date, time, shift identifier, external data, variable field, text contents).
Character matrices 
Latin: 5×5, 7×4, 7×5, 9×5, 9×7, 11×7, 12×6, 12×7, 14×9, 16×9, 16×10, 16×14,                                      21×15, 25×15, 32×18 and any combination of the a/m matrices can be used                                      within the restrictions imposed by a selected text (including national characters: German, Polish, Danish, Spanish, Swedish, Turkish, Portuguese, Greek, Czech, Slovak),
Cyrillic: 5×5, 7×6, 9×7, 12×7, 12×9, 16×10, 25×19, 32×24 (including Ukrainian,                              Kazakh characters),
Arabic
Armenian
Japanese
Chinese
Bar codes  
1-dimensional (1D) codes: Datalogic, Matrix, 2/5 5 Bars, 2/5 IATA, Interleaved, Code 39, EAN‑8, EAN‑13, EAN‑13 +EAN5, UPC‑A, UPC‑A EBS, UPC‑E, CODE 128, EAN‑128, CODE 128B, ITF8, ITF14.
2-dimensional (2D) code: Data Matrix ECC‑200(an option).
Maximum print rate for Speed=FAST printing parameter    
2083 cps – 1 line  5×5,
1890 cps – 2 lines 5×5,
  607 cps – 3 lines 5×5,
  809 cps – 4 lines 5×5,
  489 cps – 5 lines 5×5,
1785 cps – 1 line  7×4,
1247 cps – 2 lines 7×4,
 728 cps –  3 lines 7×4,
 792 cps –  4 lines 7×4,
 709 cps –  1 lines 11×7,
 304 cps –  2 lines 11×7,
 312 cps –  1 line  16×9,
  76 cps  –  1 line   25×15,
  31 cps  –  1 line   32×18; with 1 space row between characters.
Type of Ink pigment, based on methyl-ethyl ketone or ethanol
Ink color multicolor, provided that ink of one type only is used
*) note –  the manufacturer reserves that:
the range of available features, options and printer parameters may vary and depend on the option you have negotiated