An international success story
Deposit systems have become indispensable in Germany. It doesn't matter whether it's beverage crates, one-way or returnable bottles. Even at the bakery or the snack bar around the corner, where, to avoid disposable packaging, reusable tableware that has been produced again and again is handed out against a deposit. The trend is towards the multiple use of everyday objects. And this is not just limited to private households. A wide variety of deposit systems are also used in industry. The best-known of its kind is that of the EUROPEAN PALLET ASSOCIATION, also known by the abbreviation EPAL.The system is quickly explained:

With its introduction more than 60 years ago, the Euro pallet has revolutionized the transport industry. There are currently more than 45 million EPAL Euro pallets and lattice boxes in circulation and thus form the basis for the well-known deposit system, which is the largest of its kind in the world. Over the decades, a unique system has been developed that scores above all with its functionality. Thanks to the omnipresence, it can be assumed that almost every goods recipient in Europe will have a corresponding empty pallet available for exchange when a loaded EPAL Euro pallet is delivered. These can be reloaded at the next customer before being transported to the recipient. An efficient cycle is created. Unnecessary empty runs are a thing of the past.
Quality is no accident
However, the great popularity of EPAL load carriers cannot only be attributed to the efficient exchange system. Because the high quality requirements that EPAL places on the products should not be neglected. Pallets and lattice boxes that no longer meet the company's own standards are to be taken out of circulation immediately and either repaired or replaced with new load carriers. For this purpose, special licenses have been issued to more than 1,500 production and repair companies in over 30 countries. Only those who are in possession of such licenses may manufacture, repair or supply the products to the relevant companies. And this is where EBS comes into play. Because since July 2022 we have also been a licensed supplier of inkjet marking systems for marking EPAL products with our EBS-2600. This means that as soon as a new pallet is put into circulation or one of the 6 blocks has to be replaced, the manufacturer or repairer can now also use our labeling system.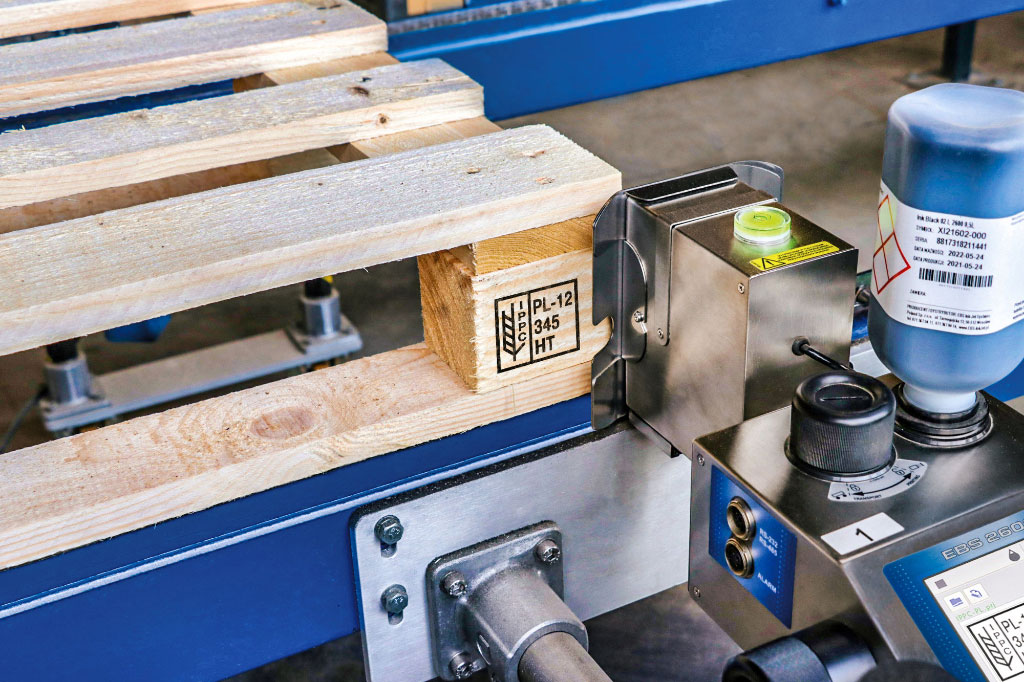 HI-Resolution with EBS-2600
With our new EBS-2600, we have expanded our product portfolio with a state-of-the-art, compact system for high-resolution prints on numerous surfaces. It is operated intuitively via a comfortable color touchscreen display or remotely via a web browser. Texts in any font and height as well as raster graphics, geometric figures, bar codes and two-dimensional codes can be conveniently created and printed. The print image height can be individually adjusted to up to 71.8 mm. With the specially developed oil-based ink, absorbent surfaces such as pallets, boxes or crates can be marked. They stand out due to their perfect intensity and the durability of the print. This is not only efficient, but also advantageous from an ecological point of view. This is because only solvent-free and odorless consumables are used in our EBS-2600 labeling system.
All from a single source
And not only that: In addition to our new EBS-2600, we have included an extensive catalog of accessories in our range. This is aimed specifically at pallet manufacturers and repairers and offers all the items that are required to integrate our labeling system into existing production lines. You can obtain everything from a single source and thus receive an all-round carefree package from EBS.